Contents
・Read Me
・Self-Introduction
・Links
・About Links
 Games
・Masao
・GOLD-KEY
・Javascript
・Other Games
・Record Holders
 Texts
・HTML Diary
・Columns
・Gallerys
 Communications
・Rules
・BBS
・Old BBS

Note

Because of the globalization, I decided to renew my website in English. I'll translate all of the pages to English by the end of the month.

---
year-end podcast
---
Latest News:2010/4/1
Renewal of top page

And more

---
At random times keywords:atuoyr
Of course, my website is located at the top of the page. But, if you use Yahoo!, you cannot seek this page.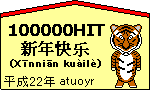 This picture is the anniversary
of 100,000 counts.
The Chinese characters
mean "Happy New Year!."
I want to change this picture.
But I don't have enough time.
(about 1.52KB)